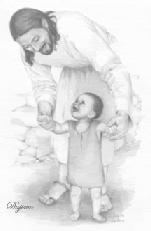 THE CHILD MARTYR
The noted evangelist, E. P. Hammond, writes us from his home at Hartford, Conn., Aug. 11, 1898, and sends us the following reliable and very touching article for this work:
I have been surprised to notice how many children have died a martyr death rather than deny Jesus. I want to tell you about one of these young martyrs. In Antioch, where the disciples were first called Christians, a deacon from the church of Caesarea was called to bear cruel torture to force him to deny the Lord who bought him with His precious blood. While he was being tortured he still declared his faith, saying: "There is but one God and one mediator between God and man, Christ Jesus." His body was almost torn in pieces. The cruel emperor, Galerius, seemed to enjoy looking upon him in his suffering. At length this martyr begged his tormentors to ask any Christian child whether it was better to worship one God, the maker of heaven and earth, and one Savior, who had died for us, and was able to bring us to God, or to worship the gods many and the lords many whom the Romans served. There stood near by a Roman mother who had brought with her a little boy, nine years of age, that he might witness the sufferings of this martyr from Caesarea. The question was asked the child. He quickly replied, "God is one and Christ is one with the Father."
The persecutor was filled with fresh rage and cried out, "O base and wicked Christian, that thou hast taught this child to answer thus." Then turning to the boy, he said more mildly, "Child, tell me who taught thee thus to speak? Where did you learn this faith?"
The boy looked lovingly into his mother's face and said, "It was God that taught it to my mother, and she taught me that Jesus Christ loved little children, and so I learned to love Him for his first love for me."
"Let us see what the love of Christ can do for you," cried the cruel judge, and at a sign from him the officers who stood by with their rods, after the fashion of the Romans, quickly seized the boy and made ready to torture him.
"What can the love of Christ do for him now?" asked the judge, as the blood streamed from the tender flesh of the child. "It helps him," answered the mother, "to bear what his master endured for him when he died for us on the cross."
Again they smote the child, and every blow seemed to torture the agonized mother as much as the child. As the blows, faster and heavier, were laid upon the bleeding boy, they asked, "What can the love of Christ do for him now?"
Tears fell from heathen eyes as that Roman mother replied, "It teaches him to forgive his tormentors." The boy watched his mother's eyes and no doubt thought of the sufferings of his Lord and Savior, and when his tormentors asked if he would now serve the gods they served, he still answered, "I will not deny Christ. There is no other God but one, and Jesus Christ is the redeemer of the world. He loved me and died for me, and I love him with all my heart."
The poor child at last fainted between the repeated strokes, and they cast the torn and bleeding body into the mother's arms, saying, supposing that he was dead, "See what the love of Christ has done for your Christian boy now."
As the mother pressed him to her heart she answered, "That love would take him from the wrath of man to the peace of heaven, where God shall wipe away all tears!"
But the boy had not yet passed over the river. Opening his eyes, he said, "Mother, can I have a drop of water from our cool well upon my tongue?"
As he closed his eyes in death the mother said, "Already, dearest, thou hast tasted of the well that springeth up unto everlasting life. Farewell! thy Savior calls for thee. Happy, happy martyr! for His sake may He grant thy mother grace to follow in thy bright path."
To the surprise of all, after they thought he had closed his eyes and had breathed his last, he finally raised his eyes and looked to where the elder martyr was, and said in almost a whisper, "There is but one God, and Jesus Christ whom He has sent." And with these words upon his parched lips, he passed into God's presence, "where is fullness of joy, and to His right hand, where are pleasures forevermore."
Are you, my dear reader, a Christian? If not, you can become one now. That same Jesus who bled and died to save that little Roman boy, suffered on the cross for you, and He is ever ready to give you a new heart, so that you will love Him so much that you would be willing to die a death of suffering rather than deny Him.